KANSAS CITY, MO - It started out as just a night watching the National Women's Soccer League Draft.
University of Kansas midfielder and Grain Valley alum Rylan Childers was watching the 2023 NWSL Draft with her family and a friend getting her hopes up when hearing the names of Riley Tanner (Washington Spirit midfielder) and Riley Mattingly Parker (Racing Louisville FC midfielder).
With her phone on do not disturb during the draft, she had no clue when or if her name would be called.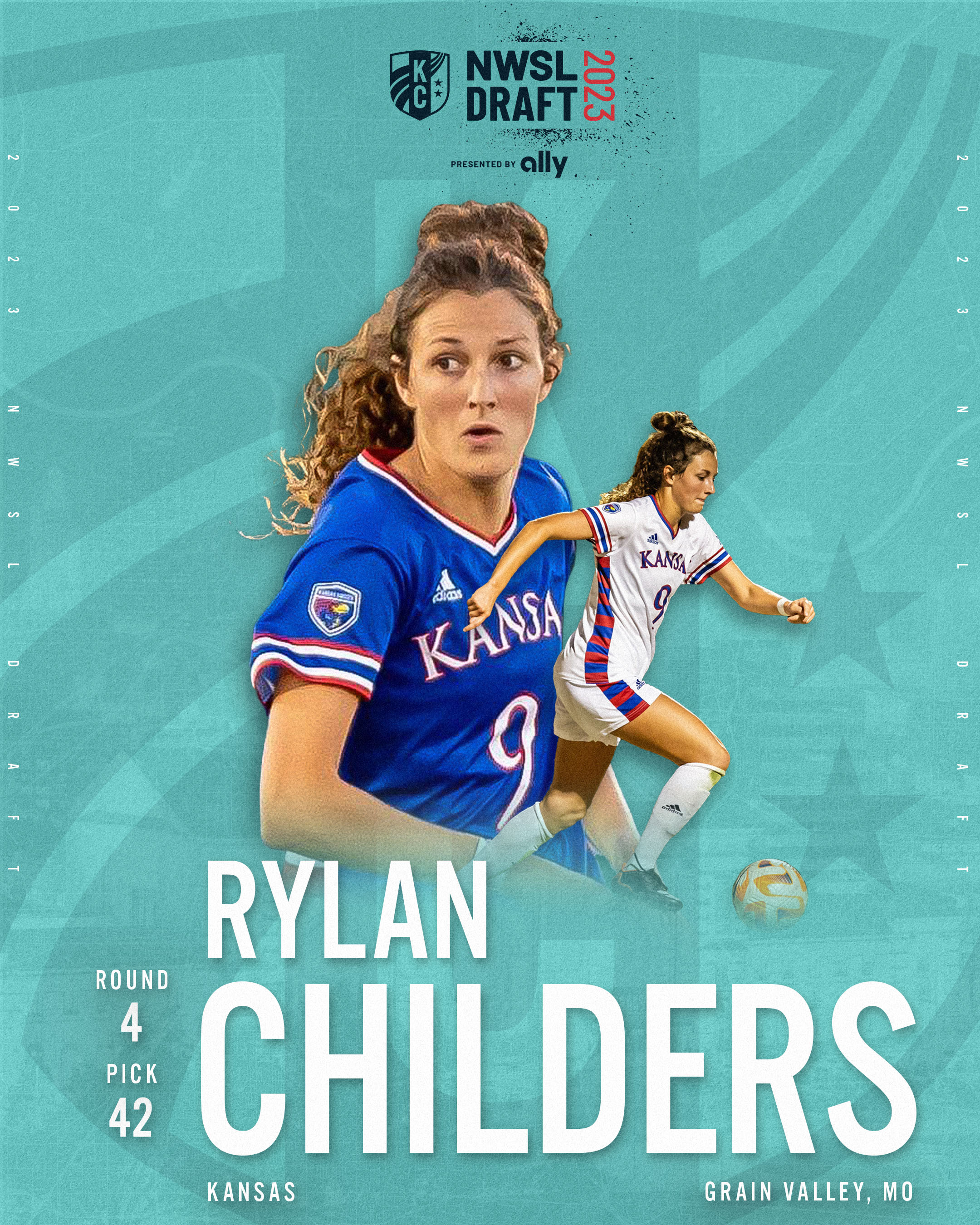 Then the NWSL commissioner Jessica Berman called her name (incorrectly by calling her Ryan) in the fourth and last round: the Kansas City Current select Rylan Childers at 42nd overall.
After she was selected, Childers spoke briefly with Current staff and told them she was excited to become a part of her hometown team.
"I wasn't at all expecting to hear my name, especially at the end," Childers said.
"I kind of had a blank face. I didn't know how to respond but it was really sweet getting to hear my name be called and getting to be with my family."
Childers began her career with two years at UMKC and was the 2018 WAC Freshman of the Year and earned a spot on the All-WAC First Team.
She also rose to the top of the school record books in career assists (24) and sixth in goals (21).
At KU, she started all 52 games of her Jayhawks career, scoring 14 goals and 11 assists and got to play her last two seasons with her sister Raena who will be a junior for the Jayhawks in the fall.
Childers also joins the Current's crop of local talent that includes CeCe Kizer (Blue Valley Northwest), KU alum Addisyn Merrick (Lee's Summit North), Jenna Winebrenner (Park Hill) and AD Franch (Salina South).
Childers said she played with Merrick during some offseason work and she played with Winebrenner at the club level for most of her club experience.
Both of them reached out to her after she was drafted.
"I'm excited to have a familiar face, especially just being in Kansas City. I think that is a special thing. Especially with two girls that I've known for a while."
Teal Rising: More Kansas City Current stories on FOX4
KC Current head coach Matt Potter also enjoys bringing in local talent as well.
"Anytime you can add a talent in your own market why would you not do it," Potter said after the draft.
"We're fortunate to have seen her play all this past season. Attacking-minded player again has an eye for goal but fits the work ethic, the competitiveness."
"We're super excited to add her to our roster and see what she can bring to our team again in preseason."
The journey for one daughter out of six kids has been a unique one. At the end of Kansas' season, Childers questioned whether she was even good enough to play professional soccer.
She put her name in the NWSL Draft to evaluate her overseas options after the draft since she thought she wouldn't get drafted.
But the 5'7 midfielder is grateful for all the ups and downs her journey has brought her.
"It's been a roller coaster with many ups and downs," Childers said.
"Just trying to develop as a person, as a leader even through this up and downs has been really beneficial to me as a person. So I'm really grateful for my journey. I think it's unique and I'm grateful that I have gotten to develop in all the ways I have."