2023/2024 CONFERENCE DETAILS
USYS MIDWEST CONFERENCE
The USYS Midwest Conference (formerly MRL) features three TEAM v TEAM tiers — Premier I, Premier II and Qualifying Divisions with relegation & promotion — to ensure the highest level of meaningful competition among the Midwest. The league provides an opportunity for the most competitive teams in the Midwest to play each other on a scheduled basis while also competing for placement in the prestigious US Youth Soccer Regional Championships, as well as automatic qualification into the highly-competitive US Youth Soccer National League.
CONFERENCE FEES
Application Fees for the 2023/2024 seasons will be $900 for all teams participating per season.
This fee is payable to USYS at the time of registration and league rosters are not approved until full payment is received.
***Teams will have two payment options. They can pay by credit card online or they can mail in a paper check to the National Office. Teams that choose to pay with a credit card will be charged a processing fee, this processing fee will be 3.25% plus a $0.15 per application fee for a credit card payment. Credit cards will not be actually charged until a team is officially accepted, so they can have a club admin log back in to pay for all their clubs teams at once if needed. If they choose to mail in a paper check this will incur no additional fees and they will be provided with a payment form that must be included with their check when it is mailed.***
As you may know, USYS and MYSA have switched over to the GotSport (formerly GotSoccer) platform starting with the 2021/22 season. The team walk-through documents are available on the Midwest Conference website under the Team Information section will aid teams and clubs in the account creation and registration process, as well as sending in payments, updating team contact information, and other processes that may require assistance.
Be sure to refer to the Official USYS League Rules if you have any questions.
For more information on the league, visit https://www.usyouthsoccer.org/midwest-conference/
---
MISSOURI REFEREE ASSIGNOR
If you are in need of referees for any competitive matches throughout the state, please contact the assignor listed below:
William Brooks
State Referee Assignor
morefereeassignor@moyouthsoccer.org
314-616-8107
---


ABOUT THE MIDWEST CONFERENCE
The Midwest Conference is one of 13 conferences that fall under the scope of the US Youth Soccer National League and operate at a multi-state level — providing high-level competition on a consistent basis at a targeted local level (Illinois, Wisconsin, Michigan, Missouri, Indiana, Iowa, Kansas, Nebraska, North Dakota, South Dakota and Minnesota).
Note: Minnesota, Michigan and Indiana teams are split between the Great Lakes Conference and Midwest Conference, due to various factors. Click Here for more details on those states.
The Midwest Conference's top tier of divisions (Premier I and Club vs. Club) offers its teams an opportunity to advance to the US Youth Soccer Midwest Regional Championships, which are held annually each summer, as well as to qualify for the following season of National League P.R.O. Midwest Conference teams also have access to the National League Showcase Series, which offers a unique opportunity for teams to compete within a national platform with diverse cross-Conference matchups against teams from differing parts of the country.
The US Youth Soccer National League provides annual league competitions at the multi-state and national tiers for the highest levels of boys and girls teams in US Youth Soccer.
The multi-state tier of competition is comprised of the National League Conferences, which debuted in the 2018-19 season to replace what were previously known as the US Youth Soccer Regional Leagues. The national tier of competition is National League P.R.O. — Player, Recruitment, Opportunity — which provides a platform for top teams in the country to compete in a league format that offers a direct pathway to the annual US Youth Soccer National Championships.
CLICK HERE to visit the Midwest Conference homepage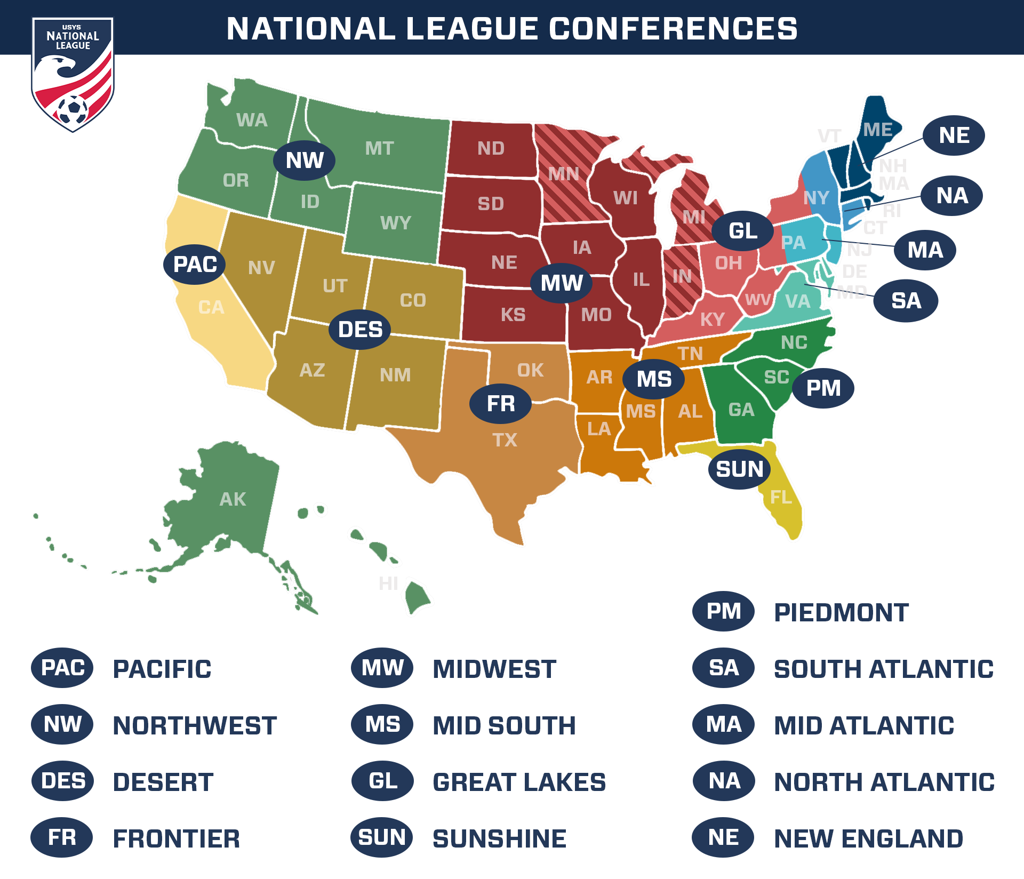 ---
ABOUT THE NATIONAL LEAGUE
The US Youth Soccer National League operates as the highest level of competition in the US Youth Soccer Leagues Program and is for the nation's top teams in the 14U, 15U, 16U, 17U, 18U and 19U boys and girls age groups. The 14U through 18U divisions consist of up to 32 teams per gender age group, while the 19U age group features up to 16 teams for each gender. The National League offers additional exposure to collegiate, professional and U.S. National Team coaches and offers the highest level of competition in the country as each team must earn their place in the league.
The National League's alumni have gone on to prove themselves at the collegiate and professional levels, with former players competing in NCAA Division I, II and III, Major League Soccer, National Women's Soccer League, the UEFA Champions League and the FIFA Women's World Cup.