*** NEW STARTING IN 2022! ***
IN COMPLIANCE WITH THE MAAPP, ALL PLAYERS AND THEIR PARENTS/GUARDIANS ARE EXPECTED TO COMPLETE THE TRAINING SHOWN BELOW EITHER BEFORE OR UPON THE PLAYER TURNING AGE 18.
---
Report a Concern
U.S. SOCCER INTEGRITY HOTLINE Click or call:
(312) 528-7004
YOU ARE A MANDATORY REPORTER!
Reporting child abuse is everyone's responsibility.
Any person may report suspected child abuse, neglect, or exploitation. Anonymous reports are accepted from individuals who are not mandated by occupation to report, but please consider identifying yourself.
Missouri Youth Soccer and US Youth Soccer have free training available through their member clubs and leagues. Anyone interested should contact their league or club Registrar for a link to the training.
---
SAFE SOCCER
To take SAFESPORT TRAINING –
Please visit the link above and create an account or access the course directly via your GotSport coach/manager/admin account.
**If your first name, last name, and email in the GotSport registration platform match exactly to the SafeSport system, upon completion of SafeSport your certificate should automatically transfer your credentials. If your first name, last name, and email do not match you will need to upload your certificate manually.

This course is also available via the US Soccer Digital Learning Center.
---
SAFE SOCCER POLICIES
U.S. Soccer's Safe Soccer Framework provides the guiding policies applicable to all U.S. Soccer-controlled programs. Although the Framework focuses in many areas on concerns unique to minor athletes, the policies are applicable to and designed to protect athletes of all ages.
Under Bylaw 212, each U.S. Soccer Organization Member is required to comply with applicable law, prohibit sexual abuse, and if they deal with athletes, maintain a risk management policy. Policy 212-3 provides criteria for risk management policies in an effort to assist Organization Members in complying with applicable Federal Law.
U.S. Soccer's Prohibited Conduct Policy forms the basis for the Safe Soccer Framework. Organization Members may wish to refer to this policy in creating their own policy or Code of Conduct pursuant to Policy 212-3.
MISSOURI YOUTH SOCCER SAFESPORT POLICY
Missouri Youth Soccer's Policies Regarding the "SafeSport Act" and how it relates to our members. The policy set forth via link on this page was approved by the MYSA Board of Directors on May 28, 2019. The purpose of this policy is to ensure that MYSA, and all of its members, comply with both the letter and spirit of the SafeSport Act. Compliance with the law is mandatory. More importantly, it is the right thing to do
---
PROTECTING YOUNG VICTIMS FROM SEXUAL ABUSE AND SAFE SPORT AUTHORIZATION ACT 2017
On February 14, 2018, the Protecting Young Victims from Sexual Abuse and Safe Sport Authorization Act of 2017 was signed into law and became effective immediately. The legislation is available for download HERE. The U.S. Center for SafeSport has released a fact sheet about the legislation which can be found HERE.
---
WHAT IS THE MAAPP?
The MAAPP is a collection of proactive prevention and training policies for the U.S. Olympic & Paralympic Movement. It has three primary components: an Education and Training Policy, Required Prevention Policies, and Recommended Prevention Policies. The Center developed the MAAPP to assist National Governing Bodies, Paralympic Sport Organizations, Local Affiliated Organizations, the U.S. Olympic and Paralympic Committee, and other individuals to whom these policies apply in meeting their obligations under federal law.
If you would like to review a full copy of the Center's MAAPP, the current version is available HERE.
---
IN COMPLIANCE WITH THE MAAPP, ALL PLAYERS AND THEIR PARENTS/GUARDIANS ARE EXPECTED TO COMPLETE THE TRAINING SHOWN BELOW EITHER BEFORE OR UPON THE PLAYER TURNING AGE 18.
---
ONLINE TRAINING FOR HIGH SCHOOL ATHLETES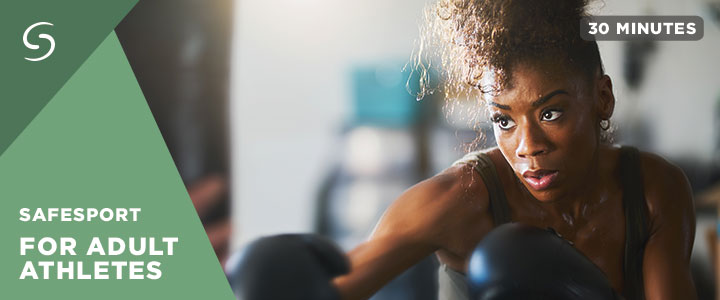 The U.S. Center for SafeSport Minor Athlete Training courses are now live! These online trainings are designed as an introduction for minor athletes and their parents or other caregivers to understand the importance of positive, welcoming environments in sports, where misconduct like bullying or abuse is less likely to happen, and to know where to report abuse, should it occur.
Each course requires that a parent/legal guardian create an account to provide consent for their child to access the training. Once an account is created, parents can choose which course is best for their child based on their actual or developmental age. A writeable PDF certificate is available at the conclusion of each training, and parents are encouraged to create one bearing their child's name.
ONLINE TRAINING FOR PARENTS
The U.S. Center for SafeSport's FREE Parent's Guide to Misconduct in Sport is designed for the parents of athletes of all ages. This course explains the issues of misconduct in sport and helps parents ensure their children have a positive and safe sport experience.
If you are a parent looking for resources on keeping your athlete safe, you can access this training at no cost. Simply create an account, add the parent training to your bag, and you'll be able to access the training.
PARENT TOOLKITS
The U.S. Center for SafeSport's FREE Online Parent Toolkits give you the necessary SafeSport information for your young athlete. Separated by age group or combined for all ages, these Toolkits help parents understand SafeSport best practices and how to respond to signs of abuse.