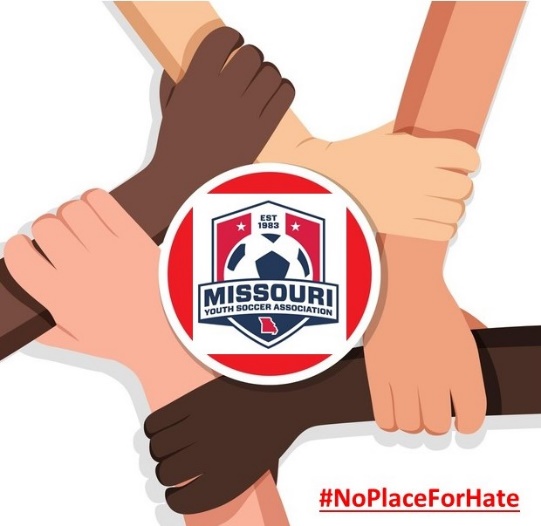 Missouri Youth Soccer Association (MYSA) believes that soccer is for absolutely everyone who wants to take part in the beautiful game. Our Mission Statement is: The Missouri Youth Soccer Association is dedicated to promote, foster and perpetuate the game of soccer in the state of Missouri.
Making the game safe and fun for all participants is one big reason for helping us meet our Mission.
Lately, some in our great game have taken to using slurs/gestures against their opponents and others around the game. This is wrong and needs to stop. The Laws of the Game include penalties for this type of behavior.
Game officials are expected to take appropriate steps against anyone using inappropriate language or gestures, and everyone around the game should do their part to make sure that this is never accepted or tolerated. This is true for all of our participants in the game; players, coaches, referees, and spectators. Using any type of slurs does not belong in our game or in our world.
Missouri Youth Soccer Association stands behind the US Youth Soccer Diversity, Equity, and Inclusion Policy. In addition, MYSA has its own Code of Ethics policy. We expect all players, coaches, referees, and parents/spectators to always abide by these codes and policies. I would like to share the US Youth Soccer Diversity, Equity & Inclusion Policy:
At US Youth Soccer, we embrace diversity and inclusion and strive to be the sport of choice for players, officials, coaches, and administrators of all backgrounds. We encourage the participation of individuals of all ethnicities, gender, religious beliefs, sexual orientation, age, ability, or disability, realizing that diversity and inclusion makes us stronger. We further encourage the advancement of diverse individuals throughout our organization, and we seek to provide a culture where all individuals feel safe, respected, and are treated fairly.
US Youth Soccer respects the diversity of individuals throughout our organization. It helps us achieve our mission of being the preeminent youth sports organization in the United States. WE ARE YOUTH SOCCER